Opportunity Details
Transportation Volunteer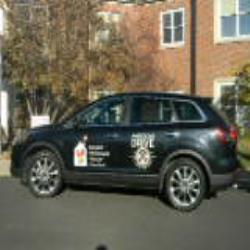 Staying at a Ronald McDonald House ("House") enables families to focus on the health of their child more than anything else – like paying bills, shopping or cooking meals. We preserve a sense of normalcy with freshly prepared meals, comfortable beds, and recreational activities for the family to enjoy. Most importantly, we help families create connections with other families, staff, and volunteers. In doing this, families have a support system to turn to during the most stressful moments of their lives.
Our Ronald McDonald House programs in Akron and Cleveland offer a place to call home at little or no cost so families can access the best health care, regardless of their location. We provide a safe, secure and supportive environment for families and have taken special care to help protect those staying with us from COVID-19.
The Cleveland Ronald McDonald House serves families with a child receiving treatment at any Cleveland area medical center. Centrally located in University Circle, the House is a short walk or ride from Cleveland Clinic Children's Hospital, UH Rainbow Babies & Children's Hospital and MetroHealth Medical Center. Situated on four beautiful acres, the House provides a peaceful retreat from the hospital environment.
Service Description
Families come from all over the world to receive care at Cleveland's top-rated medical facilities. We understand that while they're here, parents need to focus on their children. We want to make it easy for them to do just that. Ronald McDonald House in Cleveland needs dedicated and reliable drivers to support our families, whether it's delivering meals to local hospitals or helping with shuttle service for House guests.
Required Tasks May Include
Use House vehicle(s) for pickups and deliveries, e.g. meals/supplies to Hospital Family Rooms.

Use House vehicle to transport families to pre-determined destinations, as requested by staff.

Loading and unloading delivery vehicle.

Purchase (with House funds) gasoline and/or other House supplies, as directed by staff.
Skills Needed
Ability to drive safely, and to comply with House Motor Vehicle Policy.

Minimum of 21 years of age with a valid driver's license, and an acceptable driving record.

Excellent interpersonal skills.

Familiarity with local roads and routes.

Ability to lift 25 lbs.
Requirements for all Volunteer Positions
Commitment to the RMHC NEO mission.

Ability to take direction but also work independently.

Sensitivity to diverse populations.

A commitment to maintaining confidentiality regarding family information.

The ability to maintain healthy boundaries and not take on families' troubles as one's own.

Vaccinated against communicable diseases - chicken pox, measles, mumps, tuberculosis, Covid 19
Schedule: 3 hours/week, depending on House needs and volunteer availability. Transportation Volunteers are needed to serve on any (one or more) of the following weekdays: Monday, Tuesday, Wednesday, or Thursday.
Supervisor: Facilities Manager
Families, Children & Youth
Age Minimum (with Adult): 21+, Minimum Age:21+
Please wait...
Log in or Register
In order to register for this opportunity you must log in to an existing account or register to create a new account.
Signup with team
This link allows you to participate in this opportunity with a team. When you click on the link you will have the option to:
Choose an existing team you're already a member or captain of, or
Create a new team to sign up.
Signup Questions
Please respond to the following questions in order to signup for this opportunity:
Please wait...
E-mail