A Look Back at Cleveland's Homeless Stand Down

Historical Significance of a "Stand Down"

The original Stand Down for homeless veterans was modeled after the Stand Down concept used during the Vietnam War to provide a safe retreat for units returning from combat operations. At a secure base camp, troops were able to shower, get clean uniforms, enjoy warm meals, receive medical and dental care, and send and receive letters from home. Stand Down gave battle-weary soldiers the opportunity to respite, renewal and reconnection to family and friends. The first domestic Stand Down was held in San Diego in 1988 as an outreach initiative to homeless veterans. (Information Courtesy of National Coalition for Homeless Veterans)

History of the Homeless Stand Down in Cleveland

The first Homeless Stand Down (HSD) in Cleveland was held in the summer of 1991 as a small affair with just the veterans. The first few years were smaller events with only a couple of hundred people attending. In 1994, Chip Joseph at Catholic Charities and Tom Halfhill and Pat Tomcho partnered for the first joint veteran and non-veteran Homeless Stand Down in the United States. In 1995, Cuyahoga Community College Metropolitan Campus hosted an extremely large event for all homeless people coordinated by Artley Crutchfield who was the director of Veterans Upward Bound at Tri-C. NEOCH, the Dept. of Veterans Affairs, Catholic Charities, Tri-C, and the City of Cleveland were the lead sponsors of the event until 1998 and we served around 800 people each year.
In 1998 and 1999, NEOCH had staff members assigned to the project and expanded it significantly with over 1,200 people attending each year. Everyone received a t-shirt and got a shower and a haircut. In 1999, we had housing and job skills classes as part of the Homeless Stand Down. We distributed thousands of new shoes from the Oprah Winfrey Angel Network, and the events were held during the summer recess at Tri-C in August.
In the fall of 2000, The Northeast Ohio Coalition for the Homeless partnered with InterAct Cleveland to host Cleveland's one-day Homeless Stand Down. InterAct Cleveland took the major role in coordinating the event and moved the event until the winter. There were a couple of years in the 2000s in which there were similar events where social service providers gathered and one year the City attempted a separate Veteran Only Stand Down at Sterling Rec. Center.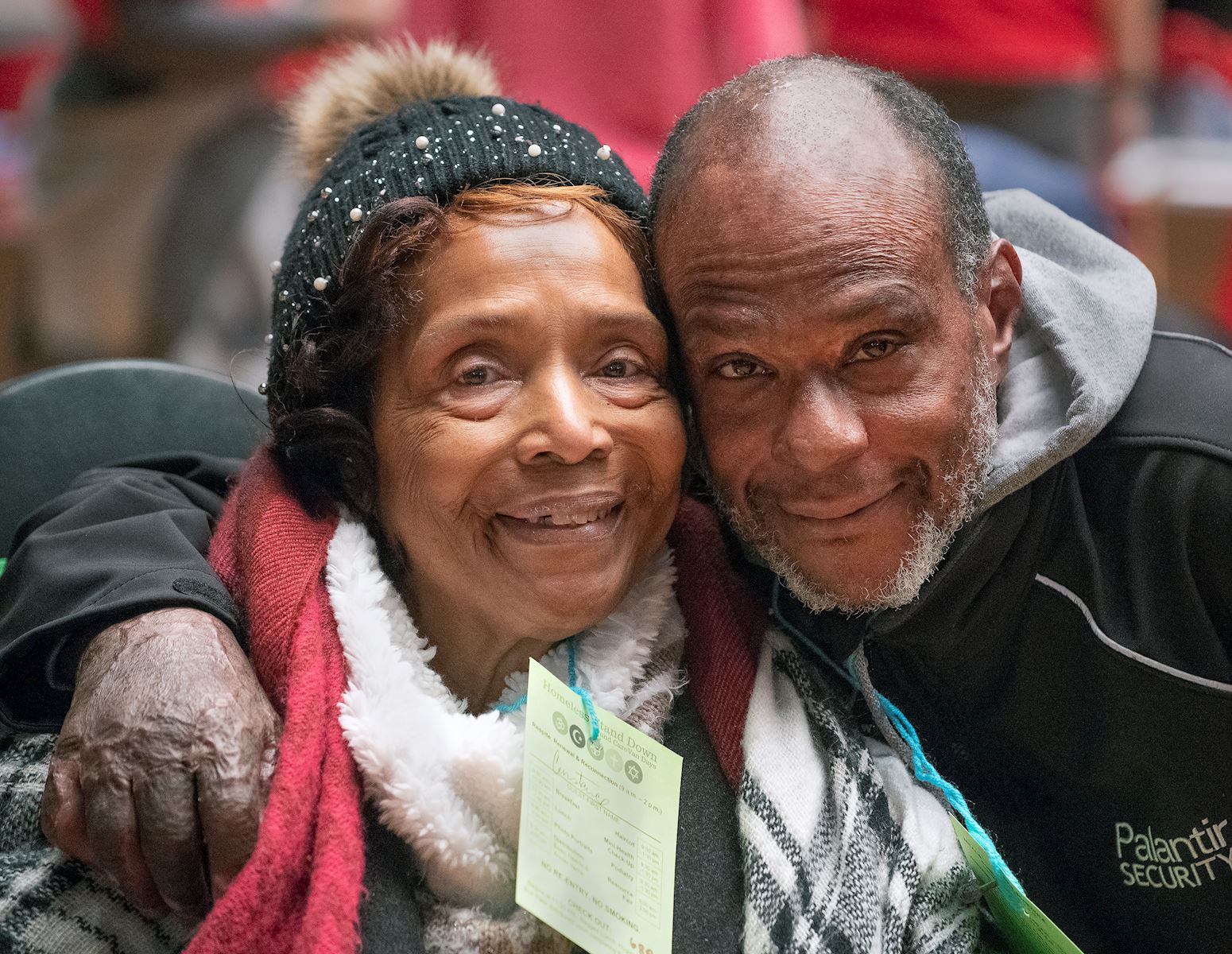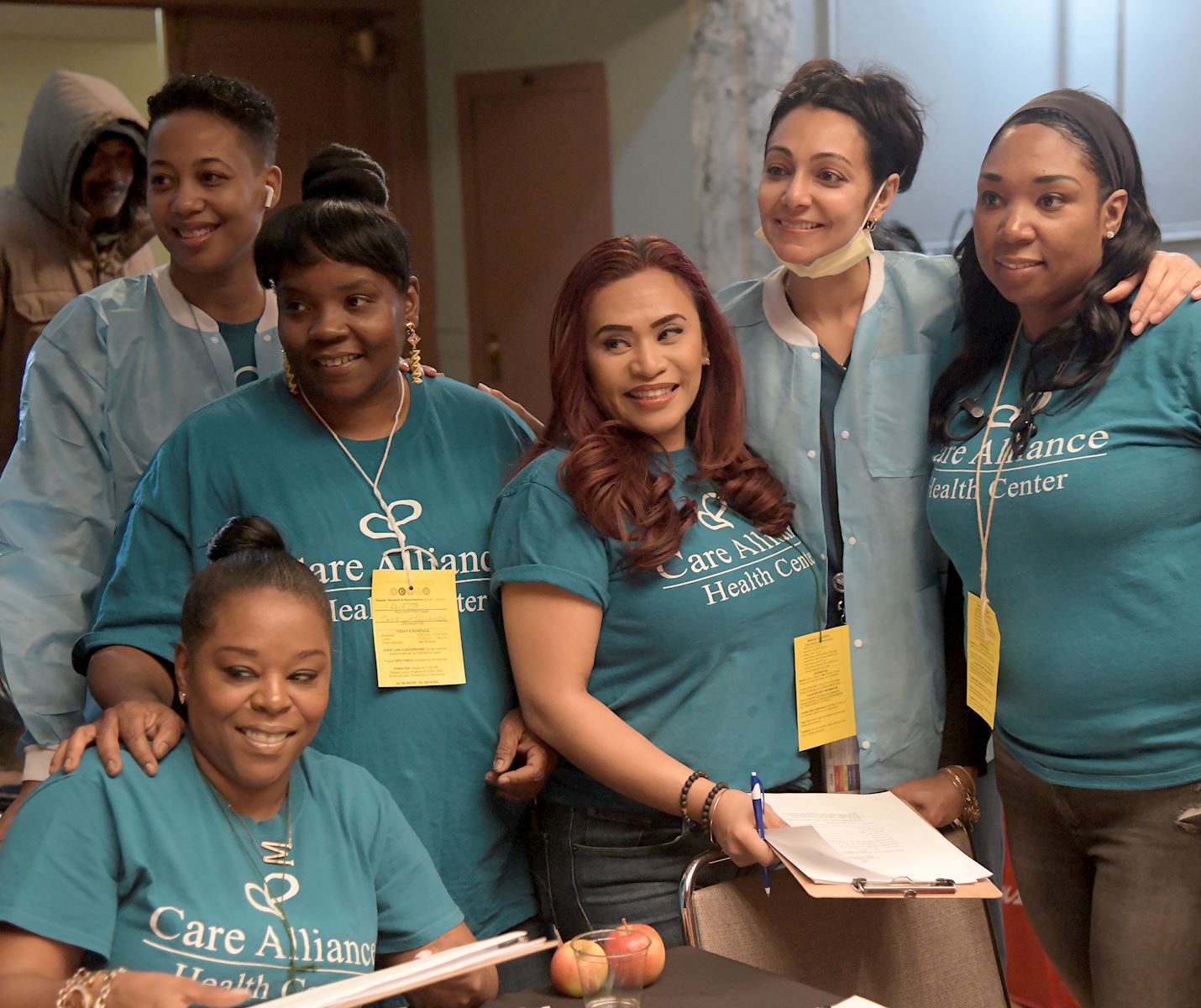 In 2001, the Homeless Stand Down was moved to the winter in February. The event was pitched as a winter re-stock after the holidays when homeless people needed new winter items to get through the rest of the winter. InterAct used its network of congregations to bring in many more volunteers. The Stand Down moved to the Old Stone Church in 2001 and was sponsored by NEOCH and Interact Cleveland. 40 to 50 Service Providers attended and served 300 people. There were similar numbers in 2002 and the event was at Old Stone Church again.
By 2003, the number of guests increased to 475 and the Stand Down was held Trinity Cathedral including Trinity Commons. The 2004 Homeless Stand Down was again in February at Trinity Cathedral, but was outgrowing the space with nearly 600 people attending.
Then, in 2005 The Homeless Stand Down became a three day event and was held from February 11th to the 13th. That year it was held at the Bishop Cosgrove Center for two days and at the Old Stone Church for one day. Again, the event was sponsored by NEOCH and Interact Cleveland. In attendance were 98 religious congregations, 45 service providers, and 425 volunteers who served and helped over 1900 people over this three day period. During the 2005 Stand Down 1,200 personal care kits, 600 pairs of boots, 600 coats, and 1,000 hats, gloves and scarves were distributed.
The Homeless Stand Down in 2006 and 2007 were again held over multiple days at various locations. The 2006 Homeless Stand Down was held at the Bishop Cosgrove Center, Pilgrim Presbyterian Church, Trinity Cathedral Church and Franklin Circle Church over four days over two weeks. A few social service providers did a special Housing Stand Down in October of 2006 at the Cosgrove Center to encourage homeless people to sign up for housing. In 2007 the regular Stand Down was held over four consecutive days at three locations across the county, including the Cleveland Convention Center, Pilgrim Congregational Church UCC, and Trinity Cathedral and Commons. Both years were sponsored by Interact Cleveland and NEOCH and there were 50 vendors that provided services.
In 2008, The Homeless Stand Down was held in January it was sponsored by Interact Cleveland, NEOCH, Veterans Administration, City of Cleveland Health Dept. and Catholic Charities and Mental Health Services. It was held at the Pilgrim Presbyterian Church and the Cleveland Convention Center in late January and early February. 2,050 people were served there were 32 different service providers, 7 shelters/transitional housing providers, 1,850 bus passes, 1,960 personal care kits, 1,950 bag lunches, 600 coats, 200 pairs of boots, hats, scarf's, underwear, socks and 400 haircuts were provided.
In 2009, The Homeless Stand Down was held at Pilgrim Congregational UCC on Saturday in late January, and the Cleveland Convention Center on February 6th and Feb. 16th 2009 again at Trinity Cathedral. It was sponsored by InterAct Cleveland with help from NEOCH, Veterans Administration, City of Cleveland Health Department. There were 96 religious communities along with 55 Health and Social Human Service representative's who provided 19 different health screenings, 160 mini check-up and 320 haircuts. This fair served 2,400 people there were 315 winter coats, 657 pair of winter boots, 2,297 hygiene kits, 2,327 bus passes and 500 volunteers who donated there time.
The 2010 Homeless Stand Down was held at the Cleveland Convention Center on March 5. Then there were smaller events on February 7th and February 28th also at the Convention Center. The second Stand Down date was to distribute clothing and the third was a health fair. There were 65 agencies that provided health, education, food and housing information and services along with participation and support from 50 inter-religious communities. There were 1,800 people served over the three days with 500 checking in at the last day of the Stand Down.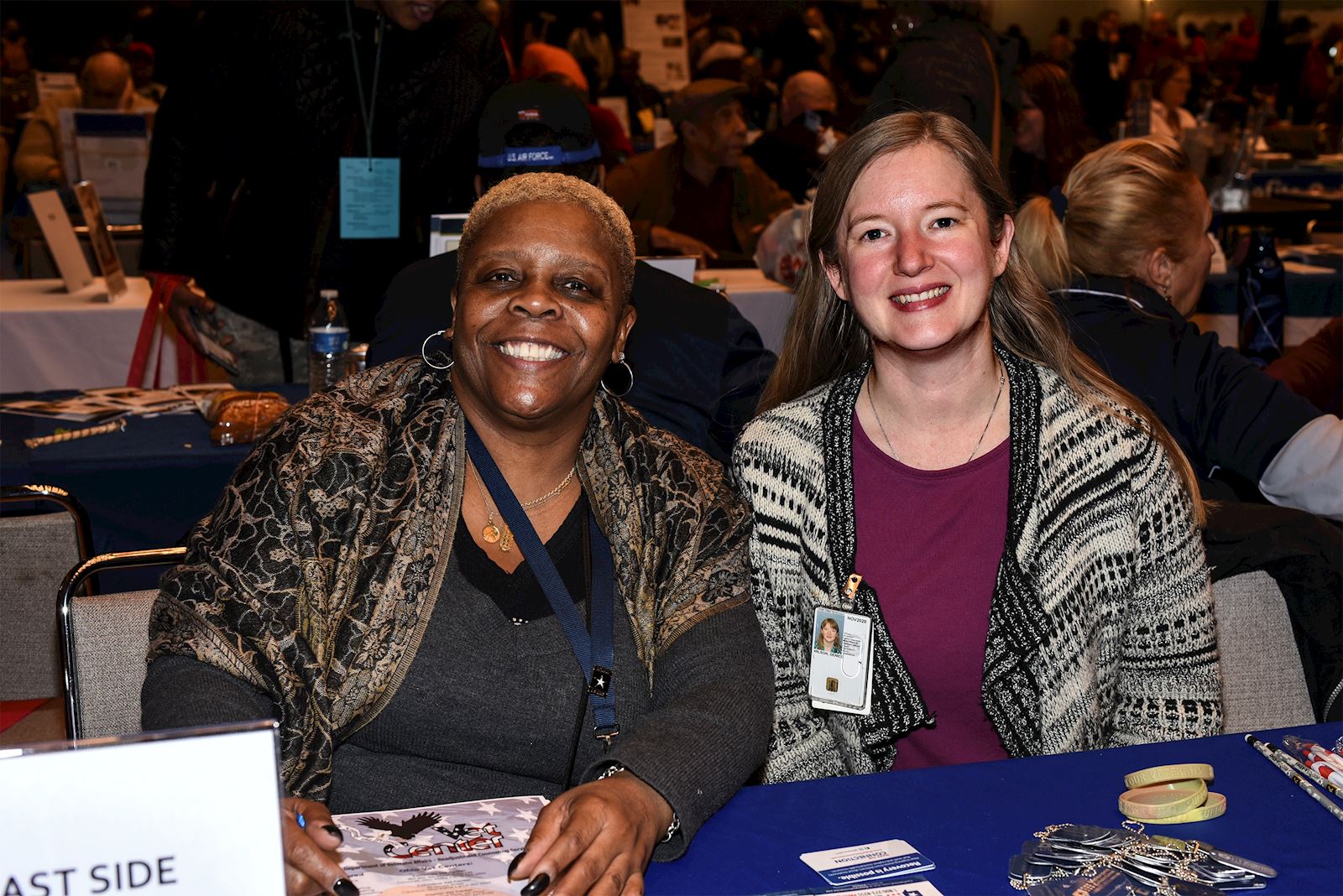 The 2011 Homeless Stand Down was sponsored by InterAct Cleveland and the volunteer group HandsOn Northeast Ohio. It was held at the Masonic Temple and then there was a Care-A-Van tour of various shelters and then a health care day later in the winter. It was difficult to squeeze the 650 people into the Masonic Temple on the first day along with all the social service providers. There were over 1,200 served for all the days with 660 volunteers representing 85 groups. There were over 1,800 hygiene kits and 370 photographs taken by the Cleveland Photographic society. 55 health and human services groups helped and 129 haircuts and 77 mini-health screenings. The Stand Down featured massages, legal assistance, and 15 mammograms were performed.
With InterAct Cleveland's closing in December 2011, the 2012 Homeless Stand Down was overseen by HandsOn Northeast Ohio and was a collaboration of over 200 faith based organizations, social service agencies, and community and corporate partners. Some of the services were provided by the Cleveland Bar Association, Metro Health, Care Alliance, Lake Erie Barber College and Prevent Blindness, andCEOGC. The event was in late January at the Cleveland Masonic Auditorium and served around 840 people with 172 haircuts, 147 volunteers on the day of the Stand Down and over 400 volunteers leading up to the event.
The 2013 Homeless Stand Down was in January of 2013 at Cleveland Public Hall and served 1,200 people and over 200 veterans. They also did a mobile Care-a-van days visiting the shelters in the weeks after the Stand Down. There was a huge medical contingent at this Stand Down and was organized by Hands On Northeast Ohio.
In 2014, there was a pretty big storm on January 25 for the Homeless Stand Down day, but that did not deter the numbers. There were still over 1,400 people who attended, but a number of service providers were not able to show up (60 were booked to attend). There were flu shots, haircuts and again many health care providers. Over 200 veterans attended in 2014.
HandsOn Northeast Ohio continued as the lead agency in planning the Stand Down from 2014 through 2020. The event was held each year at Cleveland Public Auditorium as a one-day event that saw on average 1,200 - 1,500 individuals each year. On-site service providers continued to expand each successive year offering cancer screenings, mammogram check ups, housing and legal aid and much more. Guests of the event were able to chooise either a new winter coat or pair of boots along with hygiene items, hats, gloves, scarves, socks, underwear and other essential items.
In 2020, HandsOn Northeast Ohio closed and Business Volunteers Unlimited (BVU) became the host of Homeless Stand Down. Due to the COVID-19 pandemic, there was no in-person event in 2021. BVU quickly pivoted and created the Cleveland Cares Package to distribute to partner organizations at their locations. 1,507 care packages were distributed on February 13, 2021 at 13 different locations. Each care package contained a new pair of sweatpants and sweatshirt, rain poncho, socks, hygiene items, food items, books and much more.