Opportunity Details
Family Festival at St. Augustine Health Campus Saturday, July 16, 2022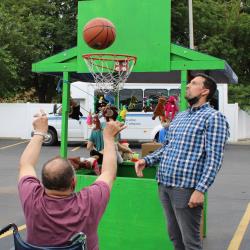 St. Augustine Health Ministries is seeking volunteers to help our seniors have some summer fun. After more than two years of quarantine and cancelled events, we want to make this festival really special for the residents of our skilled nursing and assisted living facilities. And, honestly, we could ALL use some joy, laughter, love and community, right?
The day will include games, music, food, a dunk tank and fun in the great outdoors! Many volunteers are needed to make it all work. Volunteer opportunities include setting up, running games, serving food, assisting with transporting residents down to the festival, and more. We especially need volunteers to buddy-up with residents to help transport them down to the festival (push wheelchairs), encourage them to play games, assist with refreshments, talk, laugh, maybe sing, and enjoy the day! You will be their buddy for the afternoon, so that everyone can participate in and enjoy the celebration!
Volunteers are needed from 10:00am - 2:30pm
There are several other activities in the days leading up to the festival including a cookout, karaoke, a talent show, a magician and bingo under the tent. Volunteers are needed for these lively events too.
If you would like to make this festival week truly special for our residents by volunteering at any of these events, contact Margaret Mullen at (216) 939-7601 or mmullen@st-aug.org for more information.
All volunteers must show proof of being fully vaccinated against COVID 19. Volunteers under age 15 must be accompanied by a parent or guardian at all times.
Thank you and hope to see you there!
Senior Adults, People with Disabilities
People with Disabilities, Seniors
Age Minimum (with Adult): 13+, Minimum Age:15+
Please wait...
Log in or Register
In order to register for this opportunity you must log in to an existing account or register to create a new account.
Signup with team
This link allows you to participate in this opportunity with a team. When you click on the link you will have the option to:
Choose an existing team you're already a member or captain of, or
Create a new team to sign up.
Signup Questions
Please respond to the following questions in order to signup for this opportunity:
Please wait...
E-mail