Opportunity Details
Dog Walking Volunteer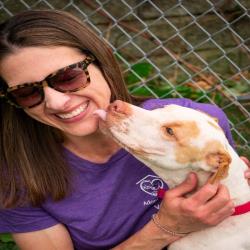 You love them, and we have them. What a win-win! Dog walking is the entry-level opportunity at the APL, but there's so much more available once you gain more experience in working with shelter dogs—like field trips, pack walks, playgroups and more. Our dog volunteer program tailors the type of dog that you can walk to your level of training and capability to ensure safety.

This opportunity is open to Pet Partners (age 9-15 with an adult partner), teens (ages 16-17 with parental consent), and adults. Once you have submitted an online volunteer application, you will be invited to attend a future Dog Orientation. This orientation will provide you with an overview of the APL, in-depth training for this assignment, and general information that you will need in order join our team. This Zoom session will last no more than two hours. Afterwards, you will be able to schedule individual in-person training with our volunteer coaches to begin your journey as an APL Dog Walking Volunteer. We do ask dog-walking volunteers to commit to a regular weekly schedule for a minimum of two hours. However, that doesn't mean that your schedule cannot change or be somewhat flexible. We use a system called VicNet for scheduling which allows volunteers to shift hours depending on their availability and shelter needs. However, we rely on you, our volunteers, to help us get our dogs out at least three times a day during our volunteer hours.

Volunteer hours for this assignment are between the hours of 8:00 a.m. to 6:15 p.m. on Monday - Friday, 8:00 a.m. to 5:00 p.m. on Saturday, and 8:00 a.m. to 4:00 p.m. on Sunday. Please know that we do everything to keep you healthy and safe while at our shelter. Therefore, we require our volunteers (and staff) to provide proof of COVID-19 vaccination to join our team at the APL. Facemasks are optional at this time. However, please know that our policies are subject to change.
Age Minimum (with Adult): 9+, Minimum Age:18+
Please wait...
Log in or Register
In order to register for this opportunity you must log in to an existing account or register to create a new account.
Signup with team
This link allows you to participate in this opportunity with a team. When you click on the link you will have the option to:
Choose an existing team you're already a member or captain of, or
Create a new team to sign up.
Signup Questions
Please respond to the following questions in order to signup for this opportunity:
Please wait...
E-mail