Opportunity Details
An Adventure in Sorting and Stocking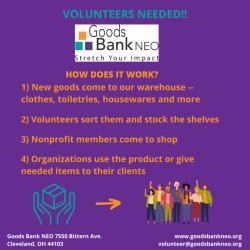 Come join us as we unpack, sort and stock new treasures to offer to area nonprofits, schools and faith-based organizations. It'll be a fun new adventure every time!
Animals, Families, Homeless, Immigrants, Refugees or Ethnic Groups, Low-income Communities, Military/Veterans, Offenders/Ex-offenders, People with Disabilities, People with Health-based Concerns, Visitors & Travelers, Other, LGBTQ+, Children & Youth, Men, Women, Seniors
Age Minimum (with Adult): 16+, Minimum Age:18+
Please wait...
Log in or Register
In order to register for this opportunity you must log in to an existing account or register to create a new account.
Signup with team
This link allows you to participate in this opportunity with a team. When you click on the link you will have the option to:
Choose an existing team you're already a member or captain of, or
Create a new team to sign up.
Signup Questions
Please respond to the following questions in order to signup for this opportunity:
Please wait...
E-mail