Opportunity Details
Volunteer GED & Adult Literacy Tutor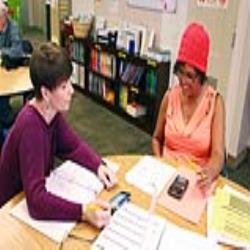 Got a soft spot for sentence composition? Love long division or adore algebra? How about sharing your everyday reading, writing, and math skills with a dedicated adult learner in your community?
Seeds of Literacy, an award-winning nonprofit organization that provides free basic education and GED™ prep to adults and has an urgent need for people just like you to volunteer as a tutor.The shocking truth is that an estimated 66% of adults in Cleveland are functionally illiterate, and may struggle with everyday necessities like reading a bus schedule and understanding medication labels. You can make a very real difference! Tutors work one-to-one with students to improve reading, writing, and math skills, offer encouragement and support, and help students develop positive attitudes towards learning.
LOCATIONS: We have two brick and mortar classrooms with secured, on-site parking and security
Seeds West: Corner of W. 125th & Clark

Seeds Eeast: Corner of Kinsman and 139th
Our third location is virtual using Zoom, with student and tutors from all over the state and the country.
THE COMMITMENT: We ask that tutors come to one class session per week for one year. We can, however, make accommodations for those with special circumstances. Classes are two hours long (that's just 1% of your entire week!) and are offered three times a day (morning, afternoon, and evening) four days a week (Monday - Thursday). You can come to whichever session(s) you like, on whatever day(s) fit your schedule, even if it's a different time each week.
TRAINING: You don't have to be a educator to help, we'll train you. We also offer ongoing professional development to keep your skills sharp, and staff is always in the classroom for support. We also provide all of the study materials and determine what each student should work on. All you have to do is show up and be willing to help.
GET STARTED: To get started with a complete list of training dates, please complete the Volunteer Application at www.seedsofliteracy.org/volunteer. If you have questions, feel free to contact volunteer coordinator at 216.661.7950
Low-income Communities, Men, Women, Seniors
Age Minimum (with Adult): 18+, Minimum Age:18+, Court Ordered Volunteer - Allowed
Please wait...
Log in or Register
In order to register for this opportunity you must log in to an existing account or register to create a new account.
Sign up with a team
This link allows you to participate in this opportunity with a team. When you click on the link you will have the option to:
Choose an existing team you're already a member or captain of, or
Create a new team to sign up.
Signup Questions
Please respond to the following questions in order to signup for this opportunity:
Please wait...
E-mail