Opportunity Details
Frost Winter Show Activity Assistant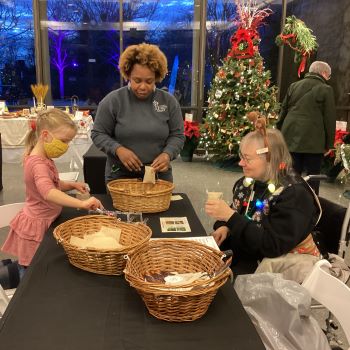 The Cleveland Botanical Garden will have a brand-new winter exhibit, Frost. Frost will completely transform the Botanical Garden with new set pieces and sounds. Frost takes place November 18 – December 31, and in addition to the exhibit itself, there will be special events and activities taking place. Volunteers will engage our visitors in children's crafts, at special events and other ways. You can view the full list of Frost volunteer opportunities here.
Craft Assistant - Assist guests with a special craft project (see below). Supplies will be provided along with instructions and a completed sample. All crafts connect back to plants and the holidays, and volunteers can share the plant information provided with the craft with guests. All crafts take place indoors in the Garden Room on the main level.
Volunteers Needed: 2-3 per shift
Marshmallow Roasting Assistant - This activity focuses on giving guests a chance to take a break from exploring and do a fun activity in the chilly beauty of the outdoor gardens. Volunteers assist guests with roasting marshmallows over the fire pit outside on Geis Terrace. Provide roasting sticks to guests and help everyone get a turn to roast a marshmallow. Dress for working outside. Volunteers must be able to stand for long periods of time and be willing to talk to guests and children. Program is cancelled if there is a snowstorm or too cold of temperature.
Volunteers Needed: 2-3 per shift
Gift Wrapper (Museum Store Sunday) - As part of the Thanksgiving shopping weekend, Sunday, November 26 is Museum Store Sunday. This is a shopping day focusing on the gift shops at museums (Holden Forests & Gardens is an accredited museum). To add to the festive shopping day, volunteers can wrap purchases made at the Garden Store. All supplies will be provided. Volunteers should be comfortable with wrapping presents of different shapes. This is an indoor seated opportunity.
Date and Time: Sunday, November 26, 1-4pm
Volunteers Needed: 8 per shift
Children & Youth, Arts & Culture
Families, Low-income Communities, Military/Veterans, People with Disabilities, LGBTQ+, Children & Youth, Men, Women, Seniors
Age Minimum (with Adult): 14+, Minimum Age:16+
Please wait...
Log in or Register
In order to register for this opportunity you must log in to an existing account or register to create a new account.
Sign up with a team
This link allows you to participate in this opportunity with a team. When you click on the link you will have the option to:
Choose an existing team you're already a member or captain of, or
Create a new team to sign up.
Signup Questions
Please respond to the following questions in order to signup for this opportunity:
Please wait...
E-mail