Our Mission:
The mission of Canalway Partners is to create a park system that follows the route of the historic Ohio Canal from Cleveland through Zoar to Dover/New Philadelphia by promoting historic preservation and interpretation, expanded recreational opportunities and sensitive economic developments.
This Mission is Accomplished By:
• Managing the development of the Ohio & Erie Canalway National Heritage Area.
• Linking natural and cultural assets via the Towpath Trail, Cuyahoga Valley Scenic Railroad and America's Byway.
• Increasing public awareness through community education and diverse activities and events such as RiverSweep and the Towpath Trilogy.
• Forging dynamic public/private partnerships to develop key physical projects.
• Promoting the Ohio & Erie Canalway as a tourist destination; showcasing its natural, cultural, and historic resources.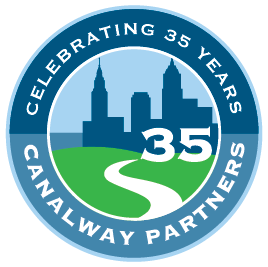 Families, Other, Visitors & Travelers